Circular Aluminum Sign Blanks
Signi Aluminum has introduced advanced
Circular Aluminum Sign Blanks
production equipment. This equipment can directly perform stamping processing on aluminum wafers. It has the advantage of fast processing cycle. At the same time, the stamping processing is automated and the surface finish is better, which effectively improves production efficiency and materials. Utilization rate, so that the utilization rate of raw materials reaches more than 80%. The product range is complete, covering 1, 2, 3, 5, 6, 7, and 8 series alloys. The products are widely used in aluminum processing and manufacturing of aluminum wafers for cooking utensils, stretched aluminum wafers for lamps, traffic signs, aluminum cans And all kinds of aluminum discs required for tank head and so on.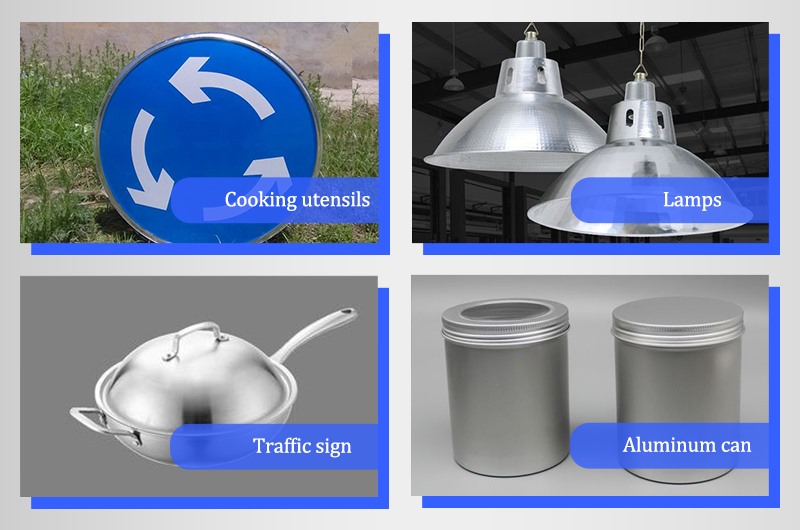 Circular Aluminum Sign Blanks
are widely used in the aluminum processing manufacturing industry, such as drawing aluminum circles for cookware, drawing aluminum circles for lamps, aluminum circles for traffic signs, aluminum cans and can heads, etc. Industry of aluminum discs.
Signi Aluminum currently has stamping dies between 200mm-800mm, which can stamp and produce various stretches, with the advantages of high elongation and good anodizing effect.
At the same time, our company also has
Circular Aluminum Sign Blanks
cutting equipment, which is mainly used for the production of traffic signs for traffic signs and marking enterprises, and adopts H14 semi-hard state. The processing procedure is that the aluminum plate is cut by the wafer cutting equipment after being cut. The equipment has the advantages of high processing precision and adjustable diameter. There is no clear requirement for the MOQ for this type of product.
The advantages of using aluminum plates for
Circular Aluminum Sign Blanks
are light weight and not easy to rust. Aluminum for traffic signs is generally made of aluminum plates with thicknesses of 1.0mm, 1.2mm, 1.5mm, 2.0mm, 2.5mm, and 3.0mm. Save capital for sign manufacturers.